Tile and Grout Cleaning/Sealing
Cleaning your tile can be a difficult job for any property owner. The appearance of your tile begins to dull with dirt build up and constant traffic wears down the seal and coating. Tile and Grout Cleaning / Sealing is a must to keep it in good condition and looking as new as possible for years to come.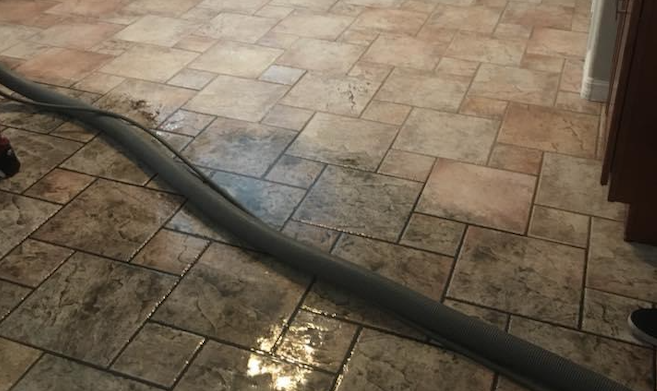 Why Arcane Carpet Cleaners Is Guaranteed To Stand Out
Our ProChem Legend and ProChem Everest Truckmounts set us apart making us one of the best carpet cleaners in town!
How to Prepare for Arcane Carpet Cleaners
Clear away any furniture blocking the areas you wish to have cleaned.   Arcane Carpet Cleaners asks that customers remove any furniture or smaller items such as lamps and tables from the desired area being cleaned prior to our scheduled arrival.  By doing this, it ensures that our technician is able to focus solely on the "steam cleaning" of the customer's carpets and any other problem areas.
Sweep areas prior to arrival.  To ensure the most high-end carpet cleaning possible, Arcane Carpet Cleaners recommends that our customers sweep all areas needed to be professionally cleaned.  By doing this, it allows our technician to sufficiently clean the carpets without any debris obstructing our process.
1. Pre Inspection
Our first stage of the process is a walk-through to identify the tile we will be cleaning. This allows us to pick the correct method of cleaning per type of tile.
2. Pre Treatment/Pre Spotting
We pre-treat the tile and grout areas with the proper cleaning products. They will begin to break down the oils and greases on your tile and grout which then preps the floor for cleaning.
3. Agitation Process
The agitation process is necessary to loosen the soil on the tile and grout to prepare the floors for the steam cleaning extraction. We use our CRB (counter rotating brush) for agitation and a hand brush for the corners, tight nooks and crannies.
4. High Heat Pressure Clean
Our high-pressure cleaning process not only improves the look and feel of your floors, but also kills bacteria and creates a healthier living environment.
5. Final Rinse
The final rinse extraction takes place to neutralize and clean the tile and grout areas so that there is no residue left behind, leaving your floors looking new.
6. Post Cleaning Inspection
Once we have completed our entire deep cleaning process, our technician will review the work with you to ensure you are 100% satisfied.
Tile and Grout Before and After!
Cleaning tile and grout with a truck mount machine offers several distinct advantages compared to traditional portable cleaning equipment.
Truck mount machines provide significantly more power and water pressure, allowing for a deeper and more thorough clean. This high-pressure steam or hot water extraction can effectively remove stubborn dirt and stains.  They have their own water heating system, ensuring a consistent supply of hot water throughout the cleaning process. Hot water is essential for breaking down grime and sanitizing surfaces effectively.  These machines have powerful vacuum systems that efficiently extract water, cleaning solutions, and contaminants from your tile and grout, leaving surfaces drier and cleaner.  The increased efficiency and power of truck mount machines mean that professionals can complete the job in less time, reducing inconvenience to homeowners.  Truck mounts are designed for heavy-duty use and are known for their reliability, ensuring a consistent level of cleaning quality.  Professional cleaners using truck mounts are highly trained in handling the equipment and selecting the appropriate cleaning methods and solutions for different tile and grout types.
In summary, the use of a truck mount machine for tile and grout cleaning results in a more powerful, efficient, and thorough cleaning process, offering superior results compared to traditional portable equipment.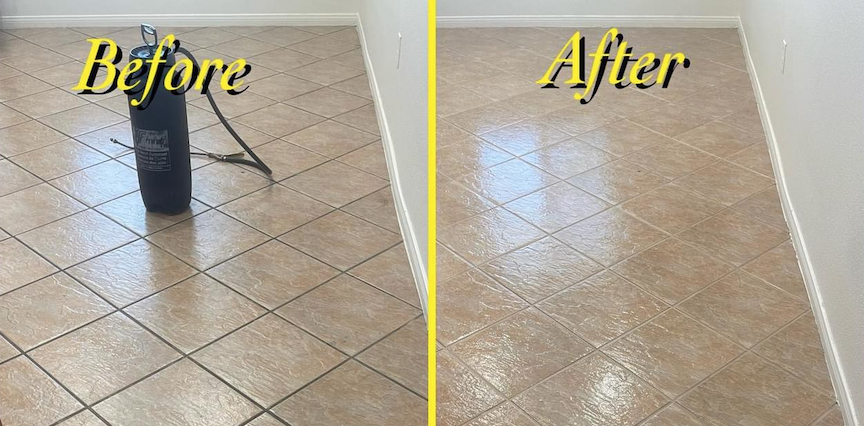 Benefits to (HWE) Hot Water Extraction "Steam Cleaning":
Can Clean all types of surfaces
Effective at removing bad odors
High heat and pressure allow for faster dry times
Recommended by all major carpet manufacturers
Use of eco-friendly, pet and child safe cleaning products
Wastewater is disposed of properly and will not harm environment
High heat temperatures help to kill the bacteria